New BIM Objects From The Aztec Brand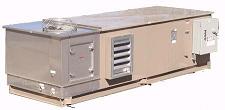 We have been promoting the Aztec evaporative cooling line to the data center market lately due to the increased interest in using outside air to cool the equipment under the new ASHRAE guidelines. The Aztec product line also has a strong history in other applications…notably schools and prisons (interesting comparisons could be drawn there). Over the last couple of years we have seen more and more articles describing indirect evaporative cooling systems as the solution for high LEED certifications and "green buildings" in general due to the performance and lack of any refrigerants in the system.
In order to provide better service to these markets we have improved the technical literature, brought on a temporary design specialist to document the current product design for better manufacturability, and made the unique DHTD burner technology and our DDC controls standard.
We have now taken another step to make the product easier to apply by architects, engineers, data center designers, and advanced mechanical contractors. The Aztec line now has Autodesk Revit BIM objects available in Autodesk SEEK for direct download into projects. The BIM objects can also be loaded directly from within a Revit design project.
These objects join the other Dallas products that have BIM objects available. Those include our most common direct fired heating units, our most common air turnover units with cooling, the entire Wing VIFB line, and the IFL split system DOAS unit. As with all of our BIM objects the Aztec objects include "I" details such as cfm ranges, weight ranges, Tech Guide URL links, heating or cooling capacity ranges, cabinet materials used, and relevant agency certifications.
The link below takes you to the Autodesk Revit site and the Aztec product listing. The RFA files can only be opened using Autodesk Revit but the PDF product catalog can be opened and the general description info on the page can also help a designer consider the Aztec for his/her project.