DDC Application Case Studies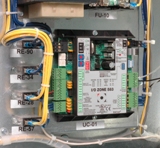 This webinar has been scheduled for Monday, August 9th.
Webinar Name:

'AdaptAire Case Studies #2

'
Summary: This should be another exciting presentation, which will demonstrate results of real installations. The installations include a high school, a biofuel plant, a meat processor and an injection molder. Each case study is unique in the problem presented and the way it was solved.
When: 0

8

/

02

/2010 8:00 AM - 8:30 AM
& 10:00 AM - 10:30 AM
Time Zone: (GMT-06:00) Central Time (US and Canada)
Please enter your name and company name in the blank field when entering webinar. I.E. John Doe/ABC Rep Co.
Conference Number(s): 1-218-339-4300
Participant Code: 793972#